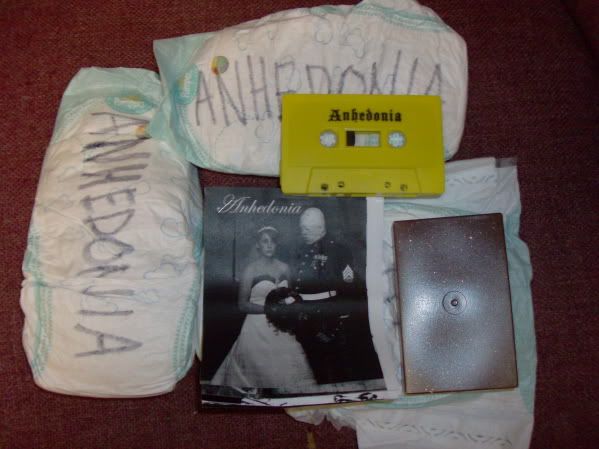 Finally after 2+ years in the making, I can proudly present you "ANHEDONIA"
Given only a theme of "denial of self gratification" and a specific time frame 20 artists from around the USA helped show how diverse modern noise and power electronics can be. Everyone has put their own spin on the theme coalescing with each of their specific sounds.
Produbbed, Type II yellow cassettes housed in a diaper complete with a 24-page booklet with personal artwork from each artist (except, Margaret Chardiet did the art for the Diaphragm track). Sure to ruin your day!
Artists include:
Custodian
Koufar
Deign
Diaphragm
Alberich
Ahlzagailzehguh
Hands Rendered Useless
PTM
Skin Graft
Ten Little Piggies
Jim Fellahean
Nyodene D
Fatale
Deterge
Endless Humiliation
Exploring Jezebel
Baculum
Harass
Aodl
Teeny Bopper
4-second clip from each artist respectively.
http://soundcloud.com/jimharas/anhedonia-all-at-once
$10ppd/$13world
email: jimharas [at] yahoo [dot] com
for Paypal address.